11th Apr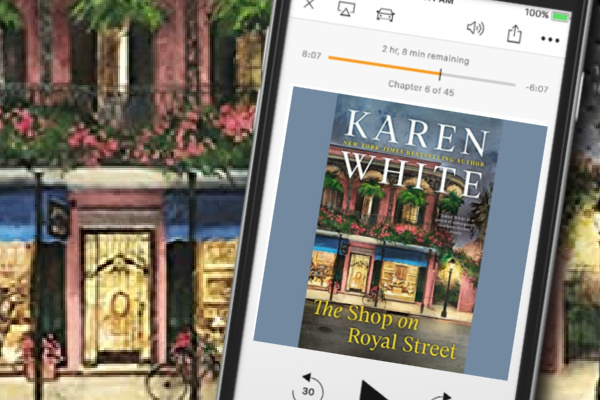 I've read/listened to some of Karen White's standalone novels and loved them, but have always wanted to try her Tradd Street series, so when I discovered, The Shop on Royal Street, book one in her new spin-off series I knew I had to listen.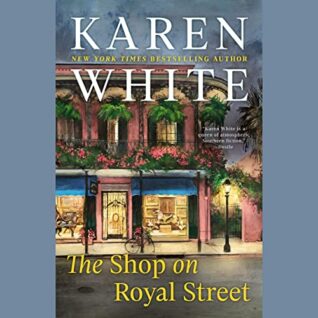 The Shop on Royal Street
by Karen White
Series: Royal Street #1
Narrator: Sophie Amoss
Length: 14 hours and 8 minutes
Genres: Mystery
Source: Publisher
Purchase*: Amazon | Audible *affiliate
Rating:

Narration: 5 cups Speed: 1.3x
Nola Trenholm is hopeful for a fresh start in the Big Easy but must deal with ghosts from her past—as well as new ones—in this first book in a spin-off series of Karen White's New York Times bestselling Tradd Street novels.

After a difficult detour on her road to adulthood, Nola Trenholm is looking to begin anew in New Orleans, and what better way to start her future than with her first house? But the historic fixer-upper she buys comes with even more work than she anticipated when the house's previous occupants don't seem to be ready to depart.

Although she can't communicate with ghosts like her stepmother can, luckily Nola knows someone in New Orleans who is able to—even if he's the last person on earth she wants anything to do with ever again. Beau Ryan comes with his own dark past—a past that involves the disappearance of his sister and parents during Hurricane Katrina—and he's connected to the unsolved murder of a woman who once lived in the old Creole cottage Nola is determined to make her own…whether the resident restless spirits agree or not.
Nola Trenholm is looking for a fresh start and has purchased a fixer-upper in the Big Easy. But this historic fixer upper could spell trouble when its previous occupants don't seem to want to depart. A little paranormal woo-woo, an unsolved murder and a missing persons case all weave together in this southern mystery.
Narrated by Sophie Amoss, I slipped right into this intriguing tale. As I stated, I hadn't listened to the Tradd Street novels, and we met some crossover characters, but I didn't feel lost. It nudged me once more to add them to my TBR pile, though.
The home Nola purchases has a tainted past. In particular, a murder occurred there. Family members with the sight aren't sure she should make the purchase. While Nola doesn't have the gift she can sense things, but the historic charm and price have her determined. Even her lifelong friend Beau is skeptical, but is the first to help her when she purchases the home and begins renovating.
Nola is a little of an odd duck. She is a recovering alcoholic and doesn't drive an automobile, but the girl has grit. Nola has a vulnerability to her, but she is also fearless.
The secondary characters helped us understand Nola, her family background and her feelings for Beau. We also have his family, and other secondary characters who affect Nola's life and the plot. I loved her friend Jolene with whom she is currently living with while her home is uninhabitable.
The characters felt genuine, and the mystery pulled me in as White weaved their story and the outside world slipped away. I became engaged in the tale as I pieced together tidbits, wondered, and reacted to the character's behavior and actions.
The storyline hit on several topics, besides the mystery elements. They ranged from family to addiction. The paranormal aspects and those with gifts/site/abilities added to the tale. The setting was atmospheric and perfect for spirits and mischief.
The mystery was clever from the unsolved murder to the disappearance of a young child to the spirits dwelling in the historical cottage. White wove her magic, giving listeners a well-paced satisfying tale that has me looking forward to more tales from Royal Street.
Sophie Amoss did a stellar job with the narration. She captured Nola and Jolene wonderfully, from their personalities to their quirks. Her male voices sounded authentic, and she gave each their own tone. Karen White's writing translates well to audio format, and I easily slipped into the telling.
The Shop on Royal Street by Karen White is the first the Royal Street paranormal mystery series #audiobook #SophieAmoss #NOLA #TraddStreet #RoyalStreet #audiobookreview Click To Tweet

Stay Caffeinated!
Never miss a post by adding Caffeinated to your Inbox