7th Mar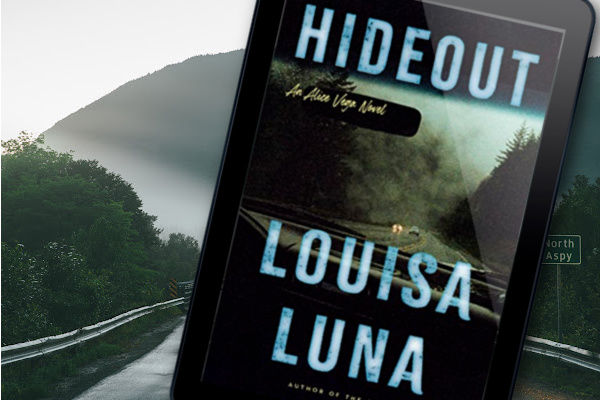 Hideout by Louisa Luna is the third Alice Vega novel. It shares the story of a thirty-year-old missing person case that takes Alice to a small-town troubled by a white supremacists network. Suspense and clever detective work will hook readers from the start.
Hideout
by Louisa Luna
Series: Alice Vega #3
Purchase*: Amazon *affiliate
Rating:
A powerful new thriller from Louisa Luna. Alice Vega and Max Caplan return, uncovering a network of white supremacists in their search for a long-lost counter-culture hero.

Alice Vega has made a career of finding the missing and vulnerable against a ticking clock, but she's never had a case like Zeb Williams, missing for over thirty years. It was 1984, and the big Cal-Stanford football game was tied with seconds left on the clock. Zeb Williams grabbed the ball and ran the wrong way, through the marching band, off the field and out of the stadium. He disappeared into legend, replete with Elvis-like sightings and a cult following.

Zeb's cold trail leads Vega to southern Oregon, where she discovers an anxious community living under siege by a local hate group called the Liberty Boys. As Vega starts digging into the past, the mystery around Zeb's disappearance grows deeper, and the reach of the Liberty Boys grows more disturbing. Everyone has something to hide, and no one can cut to the truth like Alice Vega. But this time, her partner Max Caplan has his own problems at home, and the trouble Vega finds might be too much for her to handle.

Louisa Luna understands suspense, tension, and character like only the best writers in crime fiction do–and she may well write the best interrogations in the genre. Hideout is pure adrenaline and Luna's most intimate thriller yet, a classic cold case wrapped in a timely confrontation with a terrifyingly real network of white supremacists and homegrown terrorists.
While Luna does an excellent job of re-introducing Alice Vega and Max Caplan, I recommend reading the series in the order of its release. It contains spoilers regarding their relationship and previous cases.
Things are strained between Alice and Max after the last case they worked together. When she is offered a lot of money to take on the missing persons case of football star Zeb Williams. She is hesitant, but Alice loves a good mystery.
Zeb went missing in 1984 during the Cal-Stanford football. He basically took the ball and ran off field, never to be seen again. His girlfriend's father tracked him down to a small-town in southern Oregon, but the trail went cold. Armed only with an old photograph, Alice begins there. Only she finds more than she bargained for. The small town is under siege by a local hate group called the Liberty Boys.
The tale that unfolds was dark, gritty, suspenseful and shed light on some of the darker aspects of rural America. Vega gets herself into some serious trouble and it ends up creeping out to her family and friends, but she is determined.
While Alice Vega has issues, I love her. The girl is fearless. The way she wrangled this town, and these predators, was addictive to watch. She truly is a champion for the helpless.
Max and his daughter also worked a case and hashed through some things. Max and Alice struggled, but we were left in a good place. I really enjoy these characters and the author does a nice balancing act by allowing us to get to know them more in depth and providing a page-turner of a mystery.
Fans of suspenseful mysteries and private investigators will enjoy the Alice Vega series and Hideout.
Hideout by Louisa Luna delivered a suspenseful and gritty tale that will kept the reader turning the pages. #NewRelease #AlicVega #SuspenseThriller #Mystery #PI Click To Tweet

Stay Caffeinated!
Never miss a post by adding Caffeinated to your Inbox