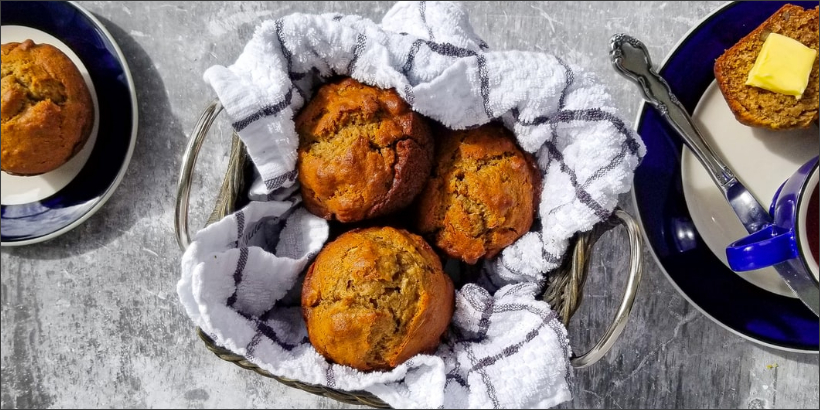 If you're looking for a kid-approved muffin recipe that is just as healthy as it is delicious, then look no further. Leah Webb, author and master chef, has found the perfect substitutes for sugar, grains, and dairy for these delicious muffins. Packed with nutrients AND flavor, they're the perfect breakfast side or snack. No matter when you eat them, though, we guarantee kids (and adults) will quickly gobble them up.
The following is an excerpt from The Grain-Free, Sugar-Free, Dairy-Free Family Cookbook by Leah Webb. It has been adapted for the web.
---
These light yet insanely filling little muffins are densely packed with flavorful ingredients that the whole family will love. I serve these muffins as a breakfast side or a quick snack throughout the week. Make sure to pay attention to rationing since kids will devour these muffins if given the chance.
Makes 24 Muffins
Ingredients
10 eggs
2 cups (490 g) unsweetened applesauce
1 cup (130 g) coconut flour
1/2 cup (100 g) melted coconut oil
4 tablespoons cinnamon
2 teaspoons vanilla extract
2 teaspoons baking powder
1/2 teaspoon salt
3/4 cup (75 g) shredded carrots
3/4 cup (130 g) raisins
3/4 cup (85 g) chopped walnuts
Procedure
Preheat the oven to 400°F (204°C).
Whisk the eggs, then add in the applesauce, coconut flour, coconut oil, cinnamon, vanilla, baking powder, and salt. Whisk together all ingredients to form a smooth batter.
Using a large spoon, mix in the remaining ingredients.
Use a 1⁄4-cup (60 ml) measuring cup to scoop batter into 24 silicon muffin molds or paper-lined muffin pans. Bake the muffins for 18 minutes or until the tops are just barely set. The muffins do not appear to be cooked through, but they'll continue to set as they cool.
Muffins are best 24 hours later, which allows time for the flavors to meld, but can be served once completely cool.
Batch Cooking and Leftovers: Work in batches if you double this recipe.
Make It a Meal: Pull from the freezer to use in packed lunches along with sliced raw vegetables, Turkey Cucumber Rolls, and Fiesta Sunflower Seed Hummus.
---
Recommended Reads